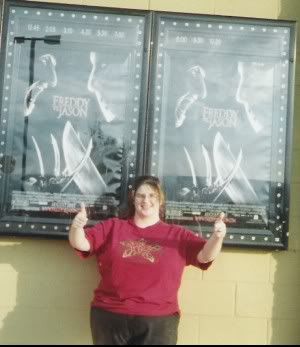 Jade outside the theater after seeing Freddy vs. Jason, giving it 2 thumbs up. This is right before we discovered someone had keyed my mother's car, stole the left windshield wiper, and spit on the windshield. Cheers!


Top movie of 2003 in my opinion has to be Jason Vs. Freddy. It was a great movie but made me feel sorry for the youth of today. (The youngins of America are dooooomed. Why when I was their age, I was younger!) When my co-page owner and I went to see the movie we had a blast but we were the only ones laughing at the humor(humor, death.....same difference in most cases.) in it as well as the only ones signing along with the 1,2 Freddy's coming for you song. (Singing and clapping I'm afraid.) I don't know whether it was just the showing we saw or if it was the fact that Jason and Freddy are film stars best left in days gone by since the movies goers of today seem to have evolved beyond the sarcastic humor and good ole' blood & guts that such movies have helped pioneer. I guess today with psychological thrillers being the norm, you know the ones that have people afraid to go to the bathroom during movies for fear of missing a pivotal plot point that will cause them to miss the entire point of the movie,(*coughs* Mothman Prophecies *coughs*) the days of knowing that the first people to get laid in the movie are going to be the first ones to get horribly killed are over. I'm sure going to miss those days. In memoriam of those days I will end part one of my year and review with a few small tidbits of advice:
#1. Keep all of your clothes on. If you are naked at anytime during the movie you will die.
#2. If you survived the first movie you will not survive the second so if they ask you back say NO and run quickly away.(Well, Neve Campbell survived all 3 Scream movies. But she pretty much broke the mold.)
#3 And the most important thing in my mind is the following:
One, Two Freddy's coming for you
Three, Four better lock the door
Five, Six get a crufix
Seven, Eight better stay up late
Nine, Ten never sleep again.
I raise my glass to you Freddy and Jason. You are the true royalty of classic horror. Long may you die and come back…and die and come back yet again.
(I do not think Freddy vs Jason was the flick of the year, but it was a good flick. I'm biased to the hobbits though. And one particularly hot elf.)
Jade
Amethyst
Stay tuned for future upcoming rambles about 2003

Please continue to Page 2.