The Daisy Memorial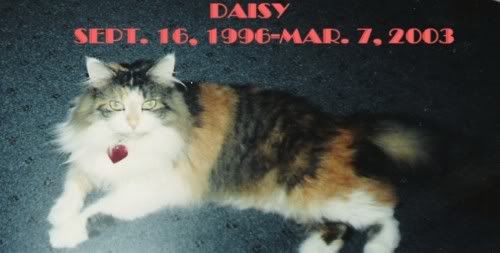 2/11/06: Wow, three years have passed since Daisy has been gone. When everything is caught up, I am going to add on our other dearly departed pets. Jade has lost 2 of her beloved kitty cats, Misty in January of 2000, and Raistlin the year after Daisy died, on Daisy's birthday. Also, yesterday(February 10, 2006) my sister's dog, Mojo, has gone on to a better place. Good-bye, Mojo. Do not try to eat our cats, wherever you are.
This was my Daisy. Daisy would be 9 this September,
but she passed away on March 7, 2003.
She was the sweetest cat in the world
and I thought she deserved her own little memorial page.
In the future, I will probably add a
few more pictures of her as I scan them in.